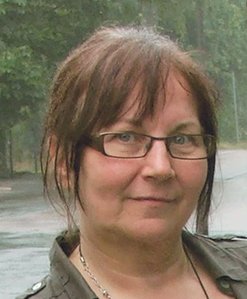 Mona Reimer
Born 1958. Biography
My name is Mona Reimer and I live in Osby in northern Skåne. My artistic ability (nature) was something I was born with. (Being an artist was something I was born with.) It was my father who encouraged me all along the way to develop my artistic ability ("artsy" side). In childhood it was mostly with blocks and crayons. In my teens he bought oil paints and canvases. We would take a trip out into the great outdoors with a picnic basket and paint supplies. We would sit together in front of the very same scene and paint, yet it is interesting how people perceive what we see around us - the same but distinctly different as well.
Some years passed and I attended a couple of evening classes in oil painting. Somewhere along the way I went from oils to acrylics. The pigmentation is the same but the acrylic binder is different.
Acrylics dry much faster.
I have had exhibitions sins 2002. Nowdays I paint full time and live my lifelong dream of an artistic life.
Inspiration

I enjoy being out in the nature and capturing moments of light and colorshifts that occur during the day. I like to go out into the woods and fields to find inspiration. By the sea, the light is constantly changing. There I sit on the rocks and study the movements of the water. I really like being by the sea and waching the day pass but as a person I am a forest man.
Robins and Bicycles
Spring's delicate greenery, Fall with all it's warm colors, rocks by the sea, water in all forms, birds and animals – these are the things I love to paint.
The Robin is always somewhere in a painting sins the day he came into my gallery when I was hanging paintings. He loocked around and then he jumped out again. Bicycles, either part or whole, are in many.
Lately I have painted hens...in abundance.
Enjoyment and Relaxation
My hope is that people find peace and harmony in my paintings. It is a great pleasure and relaxation to paint. Time flies, as probably everyone who practices some sort of hobby knows.